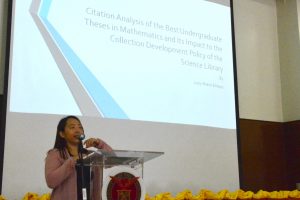 (MAY 30)⎯Over 20 researches from the School of Library and Information Studies (SLIS) were featured in its first student research colloquium, held on May 20 at the University Library Lobby. 
The morning session consisted of undergraduate students presenting research proposals while the afternoon session was devoted to graduate-level research. 
Two classes were involved. LIS 271 (Seminar in Philippine Librarianship) gave poster presentations of their studies while the members of LIS 290 (Special Problem) gave oral presentations. 
Among the studies on the poster presentations were the creation of a library for public school in Pasig City and a project to digitize the resource materials of the Natural Sciences Research Institute (NSRI) DNA-Forensic Analysis Laboratory. 
Prof. Johann Frederick Cabbab said the idea for the colloquium came during a faculty meeting. 
"Why not have all of the student research outputs all together placed under one program rather than having them in separate places during this time of the semester?" he said.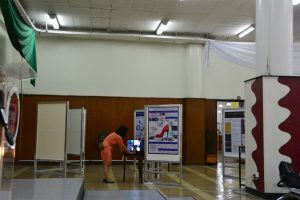 SLIS Dean Kathleen Lourdes Obille hopes that such exercises will help current and future graduates to be more familiar with participating in academic conferences and inspire them to affect change in their communities.   
"Sabi namin think of a problem that you have in your communities wherein you can help out. Last year ang dami nilang nagawa. They put up a school library, they put up a reading center, they helped out an archives organize a collection sa isang church archive ng mga musical notes. May isa nga na umiiyak kasi sabi niya 'nafeel ko na nakatulong ako sa community.' So sabi namin let's keep on doing this," she said.
The college plans to make the colloquium a regular part of their activities.—Text and images by Anna Regidor