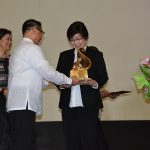 (AUG. 30) — "Journalism's best weapon against lies is to be transparent, thorough and provocative."
This was the gist of seasoned broadcaster Ma. Cristina Monzon-Palma's message at the UP Gawad Plaridel 2017.
"You cannot be challenged if you know the truth, if you personally know the truth, you trust the organization and the people you work with. They cannot break it, they can only invent things," she said, asking journalists, "What role do we play in this new wave of authoritarianism and hate speech? Do we still matter—as the role of gatekeeper shifts from content producers to curators like Facebook?"
Monzon-Palma said, "as truth becomes blurred, our role once again becomes clear. And what is the role of the journalist? To investigate, cut through the white noise, present the situation as clearly as possible and as Vergel (Santos) would always tell us, ask the hard questions."
Gawad Plaridel. Opting for a black blazer and pants ensemble over the usual Filipiniana attire, Monzon-Palma received the prestigious Gawad Plaridel award at the UP Film Institute (UPFI) Cine Adarna on Aug. 23.
The anchor of the ABS-CBN News Channel's (ANC) nightly news program The World Tonight, Monzon-Palma was honored by the UP College of Mass Communication (CMC) as the 13th recipient of the Gawad Plaridel Award for her pioneering role as a woman news broadcaster and her more than 40 years of service in the broadcast industry.
The Gawad Plaridel, named after the Philippine hero Marcelo H. del Pilar's nom de plume, is the CMC's distinction for Filipino media practitioners who have excelled in any of the media (print, radio, film and television) and have performed with the highest level of professional integrity in the interest of public service.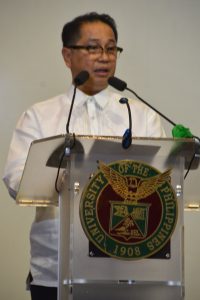 UP President Danilo L. Concepcion, UP Diliman Chancellor Michael L. Tan and CMC dean Dr. Elena E. Pernia awarded to Monzon-Palma the trophy designed by National Artist for Sculpture Napoleon V. Abueva. The citation was written by former CMC dean Dr. Rolando B. Tolentino and read at the ceremony by Dr. Eulalio R. Guieb III, CMC Department of Broadcast Communication chair.
Citation. CMC commended Monzon-Palma "For uncompromisingly standing by her professional decisions and ethical standards even as these challenged state power and the control of media during the Marcos dictatorship and beyond."
She was cited "For taking on the lead role as news anchor and news director in three television stations at a time when women were relegated in the margins of news reporting and for bearing witness to the growth of broadcast journalism in the country."
In addition, she was recognized "For mentoring younger generations of broadcast journalists in the country, enabling them to diversify news programming and to assume news management positions that allow them to affect the quality of broadcast journalism and negotiate and even defy the intensifying commercialism of television."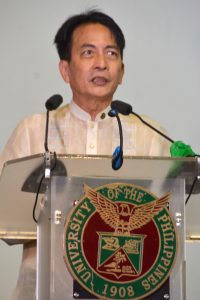 40 years in service. Overwhelmed with gratitude, the ever calm and collected veteran broadcaster, fondly called by her colleagues as TMP, was teary-eyed during her acceptance speech.
Monzon-Palma thanked UP, her colleagues and friends for the award and for inspiring her to constantly improve the organization and station she is affiliated with.
She also shared a story about her encounter with the three musikeros she met outside the ABS-CBN studio.
One of them asked her if she was the Tina Monzon-Palma who used to worked at GMA7. She said yes and as soon as she left, she overheard the musikero saying "Pare, si Tina Monzon-Palma, nandito na sa ABS-CBN, buhay pa pala 'yon!"
The anecdote made the audience laugh especially those people who grew up watching her on television. After all, she served in the broadcast industry for more than 40 years.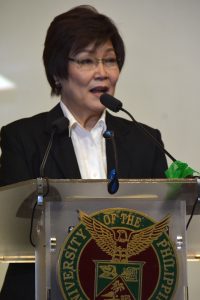 "To the younger generation here, I am the veteran under the Cory administration of about seven coup attempts," she said.
According to the article "The Prime of Ms. Tina Monzon-Palma" by Luz Rimban, an investigative journalist and VERA Files co-founder, one of the most memorable coup attempts that tested Monzon-Palma's capabilities as a broadcaster was in December 1989, regarded as the bloodiest challenge to former president Aquino's leadership. She was only 39 years old then and a senior vice president of GMA-7 News, "the first female to hold that position and at that time the only woman at the helm of a national TV news division in the Philippines," according to Rimban.
Monzon-Palma said those incidents in her life made her years as a broadcaster really significant "as far as journalism and democracy are concerned."
She got teary-eyed again when she mentioned her dear friend, Letty Jimenez-Magsanoc, the editor-in-chief of "Philippine Daily Inquirer" who passed away on Dec. 24, 2015.
She said "A month ago, I read with sadness that the Prietos had sold a majority stake in the newspaper that started as a 'mosquito press.' I wonder how my dear friend Letty would have reacted. I wonder if it would have happened at all if she was still around at the helm. Sadly, these are not questions I can ever answer."
She also recounted her interview with President Ferdinand E. Marcos two days before the snap elections in February 1986 where she bravely asked the late dictator about his health.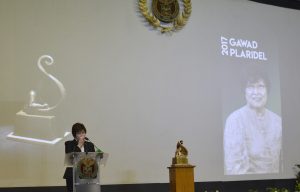 "These were the years when almost everything you watched, heard or read were tepid, timid and whitewashed version of reality. These were the years…when people lived in fear of the knock on the door in the night, which often ended with people dying or going missing to this day," she said.
Monzon-Palma said the current generation is also living through a version of Martial Law or which she referred to as "Pre EDSA 2.0."
When the truth seems to be under assault, "The media cannot be timid. Media need not be timid if it sticks to good journalism," she said.
She also reminded everyone especially the millennials that no one has the right to humiliate, threaten or spread hatred to anyone, and that everyone has the right to free speech.
Lastly, Monzon-Palma posed a challenge to the younger media practitioners: "Thirty years ago, media answered that call. Now, it is your turn."
Program. Pernia delivered the closing remarks. The event's emcees were Associate Professor Julienne Thesa Y. Baldo-Cubelo of the CMC Department of Communication Research and Edgie Francis Uyanguren, a university extension specialist from the College of Social Work and Community Development.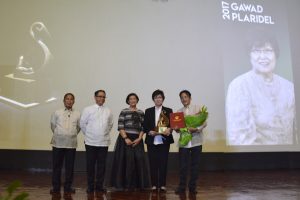 Monzon-Palma now joins the roster of Gawad Plaridel recipients Eugenia Duran-Apostol (2004, print), Rosa Vilma Santos (2005, film), Fidela "Tiya Dely" Magpayo (2006, radio), Cecilia "Cheche" L. Lazaro (2007, television), Pachico A. Seares (2008, community print), Kidlat Tahimik (2009, independent filmmaking), Eloisa "Lola Sela" Canlas (2011, radio), Florence "Rosa Rosal" Danon-Gayda (2012, television), Jose "Pete" Lacaba (2013, print), Nora Cabaltera "Nora Aunor" Villamayor more popularly known as "Nora Aunor" (2014, transmedia), Ricardo "Ricky" Lee (2015, Film) and Francisca "Babes" Custodio (2016, radio).
During the program, a short documentary in honor of Monzon-Palma was shown to the audience. It was directed by UPFI Professor Carlos Gabriel "Choy" Pangilinan with Sentro ng Wikang Filipino director Dr. Rommel B. Rodriguez as scriptwriter.
Among the guests present during the ceremony were Marissa Flores, GMA Network senior vice president for news and public affairs; broadcaster Jessica Soho, Maria A. Ressa, Rappler's chief executive officer; Lazaro, multi-awarded broadcast journalist, and some of her colleagues at the ANC.