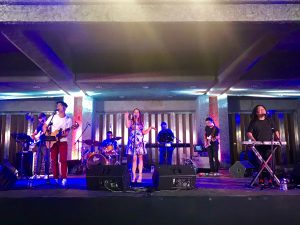 (MAR. 6) — Soothing the hot evening of Feb. 24 with refreshing vocals and rhythms at the University Theater Canopy, Freestyle took center stage as Himigsikan 2019's featured band.
The band performed for the UP community and campus visitors a mix of its original songs and all-time Filipino favorites. In the open-air concert, the audience sang along to OPM hits  Babaero, Urong Sulong, 'Wag Mo Na Sana Isipin, Ale Nasa Langit Na Ba Ako and Tatlong Bente Singko and jammed to Freestyle songs This Time, Til I Found You,  Ako'y Sa'yo At Ika'y Akin and Bakit Ngayong Ka Lang.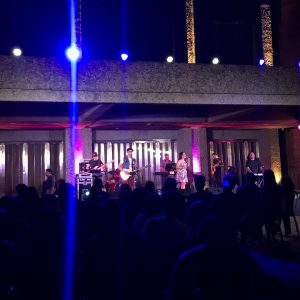 The crowd went simultaneously gaga and sentimental when the band performed its smash hits Before I Let You Go and So Slow. The latter's music video won for the band the Best New Artist award in the 1999 MTV Video Music Awards – Philippines, further solidifying Freestyle's status during the early 2000s.
Freestyle is now a household name among OPM bands due to the variety of music genre it performs such as old and new school, R&B, hip-hop, funk, neo soul and ballad. 
The 23-year old group established in Davao has undergone several member changes. The current lineup consists of Ava Santos and Joshua Desiderio on vocals; Mike Luis on second keyboard and vocals; Gerald Banzon on drums; Joel Guarin on bass; and Gino Aguas on guitar. Bobby Velasco is the band's musical arranger. Santos is a homegrown talent from the College of Arts and Letters while Luis and Aguas are from the College of Music.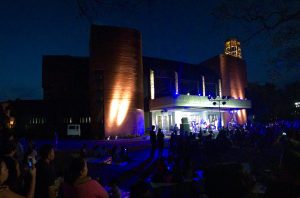 Original band members include Top Suzara, Tat Suzara, Jinky Vidal, Carlo Tapia, Obet Luzon and Banzon.
Himigsikan is a portmanteau of the words "himig" (melody or tune) and "himagsikan" (revolution). It drew inspiration from Concert at the Park, a free show regularly held at the Luneta Open Air Auditorium. First staged in 1999, the event has already featured artists like Joey Ayala, Heber Bartolome, Noel Cabangon and Lester Demetillo; and groups such as the Philippine Normal University Rondalla, Ethnic & Angklung Ensemble, Kadangayan, Camerata Jazz, Tugtugang Musika Asyatika, Kontra-Gapi, Triple Fret, Anahata and Tres Marias.
Himigsikan is a component of the UP Diliman Arts and Culture Month 2019 themed Lakad-Gunita sa Lupang Hinirang.—Kevin Brandon E. Saure