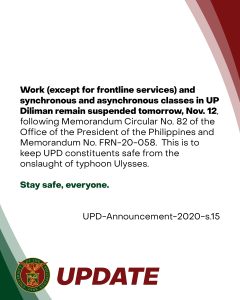 UPD-Announcement-2020-s.14
Work (except for frontline services) and synchronous and asynchronous classes in UP Diliman remain suspended tomorrow, Nov. 12, following Memorandum Circular No. 82 (https://www.officialgazette.gov.ph/downloads/2020/11nov/20201111-MC-82-RRD.pdf) of the Office of the President of the Philippines and Memorandum No. FRN-20-058 (https://upd.edu.ph/up-diliman-releases-remote-learning-suspension-guidelines-for-storm-signals/).
This is to keep UPD constituents safe from the onslaught of typhoon Ulysses.
Stay safe, everyone.