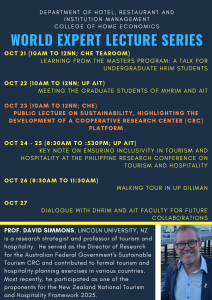 The UP Department of Hotel, Restaurant and Institution Management (DHRIM), College of Home Economics (CHE) is holding a weeklong World Expert Lecture Series (WELS) on October 21-27 at the CHE and at the UP Asian Institute of Tourism.
WELS, a program of the Office of International Linkages System-Office of the Vice President for Academic Affairs, aims to draw on how UP can further situate itself as a venue for intellectual discourse in finding solutions to sustainable development concerns and challenges.
On October 23, Prof. David Simmons from the Lincoln University, New Zealand, a world expert on tourism and hospitality, will be delivering a lecture on how he spearheaded the development of the Sustainable Tourism Cooperative Research Center and how he mobilized the support tools needed for its implementation (http://www.sustainabletourismonline.com/.
For more information, please call the DHRIM at 981-8500 loc. 3410.