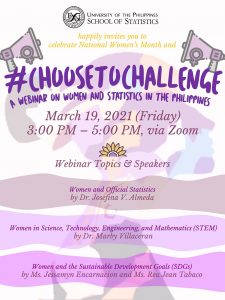 The theme for this year's International Women's Day dares us to #ChooseToChallenge inequality, call out bias, question stereotypes, and help forge an inclusive world. It encourages everyone to celebrate women's achievements, to oppose the gender confidence gap, and to remind us that we all have a role in empowering women worldwide.
In celebration of National Women's Month and International Women's Day, the UP School of Statistics shall be conducting a webinar:
#ChooseToChallenge: Women and Statistics in the Philippines
March 19, 2021 (Friday)
3:00 PM – 5:00 PM via Zoom
REGISTER NOW at bit.ly/WomenStatWebinar.
The webinar aims to provide an avenue to highlight current issues and opportunities in the field of statistics, as well as the role of statistics in women's empowerment and gender justice. Four speakers are invited to talk about the following topics: Women and Official Statistics, Women in Science, Technology, Engineering, and Mathematics (STEM), and Women and the Sustainable Development Goals (SDGs).
There is a need to identify the struggles that Filipino women go through, especially in a patriarchal society such as our country. The talk on Women and Official Statistics intends to educate the attendees about the gender disparity that is present in the Philippines. It shall also cover the government's role and initiatives in closing this gap.
In predominantly male-populated fields such as those that are STEM-related, women are expected to work harder than their male counterparts to succeed. The topic on Women in STEM aims to inspire women to defy gender stereotypes and to show the world that they are equally competent to fulfill the responsibilities required of their positions in work.
Finally, while "gender equality" is one of the 17 Sustainable Development Goals (SDGs), the UN believes that achieving gender equality and women's empowerment is integral to each of the SDGs. The talk on Women and SDGs aims to discuss how attaining gender equality would also ensure that the other goals are sustained. It also aims to discuss the role of the individual in guaranteeing that this is realized and maintained.
Surely, this will be a meaningful experience for all of us! See you there!