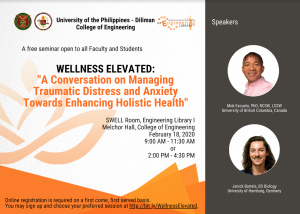 Date: February 18, 2020 (Tuesday)
Time: 9:00 AM – 11:30 AM (AM Session); 2:00 PM – 4:30 PM (PM Session)
Venue: Student Wellbeing (SWELL) Room, Engineering Library 1, Melchor Hall
Online pre-registration is required on a first-come, first-served basis.
You may sign up and choose your preferred session at http://bit.ly/WellnessElevated
This seminar aims to address critical aspects of distress and anxiety from traumatic
experiences, and identify some strategies to deal with existing challenges such as
acknowledging the importance of improving sleep, towards elevating physical, psychological,
emotional, and spiritual wellness.
Presenters:
Mok Escueta is a Trauma Psychotherapist, who holds a PhD in Educational Studies at
the University of British Columbia, Canada. He is a Registered Clinical Social Worker
(RCSW) in British Columbia, and a Licensed Clinical Social Worker (LCSW) in
California.
Janick Bartels holds a degree of Bachelor of Science in Biology from the University of
Hamburg, Germany. He also undertook a one year program at the University of
Montpellier, France; with his research interests on brain studies, cognitive neuroscience,
sleep, mental and emotional health, and spirituality.