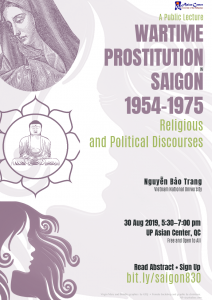 The UP Asian Center will hold a public lecture, "
Wartime Prostitution in Saigon, 1954-1975: Religious and Political Discourses
" at the UP Asian Center, Quezon City, 30 August 2019, 5:30–7:00 pm. The lecture is free and open to the public. Seating is first come, first served. Walk-ins are welcome but encouraged to sign up.
About the Lecture
A topic widely neglected by both North and South Vietnamese historians, this presentation seeks to understand the discourses on prostitution and its practices in the context of urban Saigon during the Vietnam War. It views these practices as having clear structural continuities from the immediate past, i.e., the French colonial period. More importantly, it investigates contrasting perspectives on prostitution from different social and political circles of North and South Vietnam (e.g., communist, catholic, Buddhist). By doing so, it exposes how prostitution became closely entangled with the fragile politics of the time.
About the Speaker
Ms. Nguyễn Bảo Trang is a member of the Faculty of History of the Vietnam National University. She is also a PhD student at the Institute of History, Giessen University, Germany. Her dissertation deals with the history of the sex industry of Saigon, Vietnam during the Vietnam War (1955-1975). Ms. Nguyễn 's broader historical research interest is on the cultural history and gender studies in the context of Vietnam.
Inquiries and Vicinity Map
For inquiries, please email asiancenter@up.edu.ph. View vicinity map and general directions.