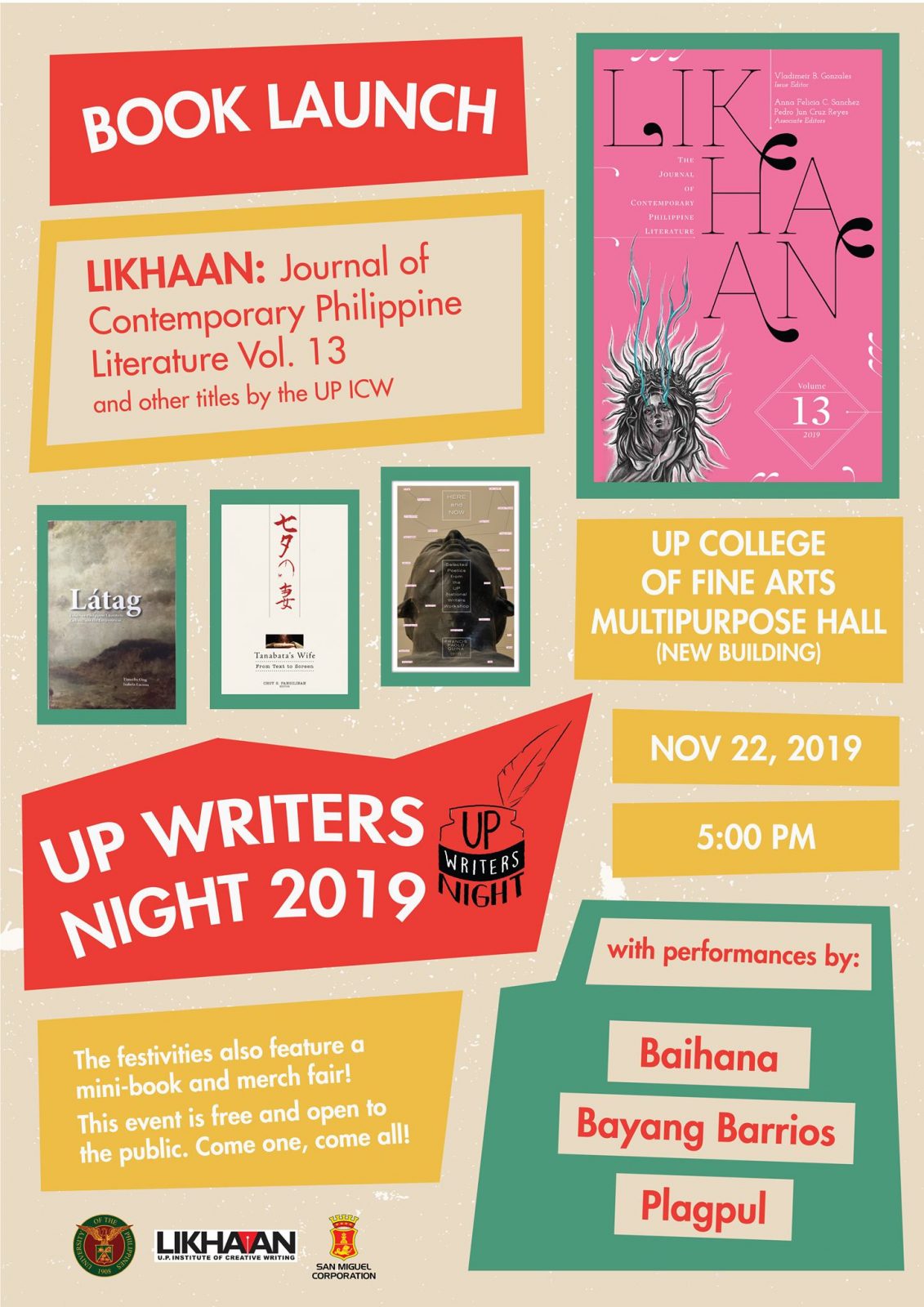 LIKHAAN: UP Institute of Creative Writing (ICW) invites everyone to the UP Writers' Night 2019, a yearly gathering that pays homage to both the country's established and up-and-coming writers, taking place on November 22, 2019 at the new UP College of Fine Arts Building, University of Philippines Diliman.
The celebration will begin with the awarding ceremony for the 19th Madrigal-Gonzalez Best First Book Award (MGBFBA), to be held from 2:30-4:00 PM at the Plenary Hall. The finalists for this year are Francis Paolo Quina for Field of Play and Other Fictions; Marichelle Roque-Lutz for Keeping It Together; Christine Lao for Musical Chairs; Manuel Lahoz for Of Tyrants and Martyrs; Jude Ortega for Seeker of Spirits; Sarah Lumba for The Shoemaker's Daughter; Glenn Diaz for The Quiet Ones; and Johanna Marie Lim for What Distance Tells Us. The judges for this cycle are Charlson Ong, Marne Kilates, and Rica Bolipata-Santos.
Registration and dinner for the UP Writers Night and Likhaan Journal Book Launch follow at 4:30p.m onwards. The UP ICW is proud to launch the 13th volume of the annual Likhaan: Journal of Contemporary Philippine Literature, helmed this year by issue editor Vladimeir Gonzales.
Three books published by ICW will also be launched at the event: Látag: Essays in Philippine Literature, Culture and the Environment (Timothy Ong and Issa Lacuna, eds.), Tanabata's Wife: From Text to Screen (Choi Pangilinan, ed.), and Here and Now: Selected Poetics from the UP National Writers Workshop (Francis Quina, ed.).
A special launch of 2019 works by ICW fellows and workshop alumni, including Vladimeir Gonzales' Mga Tala ng Isang Super Fan: Fan Poetry at Fan Fiction, Cristina Pantoja-Hidalgo's Collected Stories & Tales, Ronnie E. Baticulon's Some Days You Can't Save Them All, Rene Boy Abiva's Poelitika, and Che Sarigumba's Sana Kahit Minsan, A Love Story, will also be conducted.
The UP Writers Night program will feature special performances by Baihana, Bayang Barrios, and Plagpul. Books, zines, and other merchandise from different publishers and artists will also be sold at the event.
Admission is free and everyone is invited! Friends from media are invited and encouraged to participate, and provide coverage, if possible.
For more information about the event, please e-mail icw.upd@up.edu.ph or check the Facebook event page at https://bit.ly/2WRPONg.