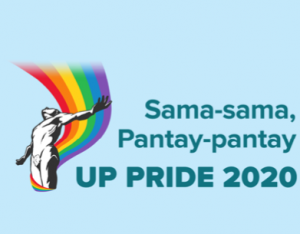 UP
Pride
is the annual
Pride
celebration of the LGBTQI community and allies in the University of the Philippines Diliman. Since 2008, it has been an avenue to elevate the voices and concerns of the LGBTQI community within and beyond the university, and has become an official
UP
Diliman event since 2016.
This year,
UP
Pride
will be held on October 26 to 30,
2020
with the theme "Sama-Sama, Pantay-Pantay."
UP
Pride
2020
aims to unite the LGBTQI community and other marginalized sectors in fighting for human rights and equality, and calling for stronger SOGIESC-based anti-discrimination protections within and outside the University, such as the SOGIE Equality Bill. We will be sending more details about
UP
Pride
2020
soon.
On October 13, we will be releasing a
UP
Pride
Community Calendar collating the different
Pride
-related initiatives of
UP
organizations, student councils, offices, and colleges for the month of October leading
up
to the weeklong
UP
Pride
2020
lineup of events on the last week. In line with this, we would like to invite your office/organization to celebrate
UP
Pride
2020
with us by sending us your
Pride
-related activities for inclusion in the
UP
Pride
Community Calendar.
If you wish to join us, please go to
tinyurl.com/uppride2020calendar
and submit your event application form before October 12, 6PM. Should you have any questions, suggestions or concerns, please do not hesitate to contact us using the details in the letter.