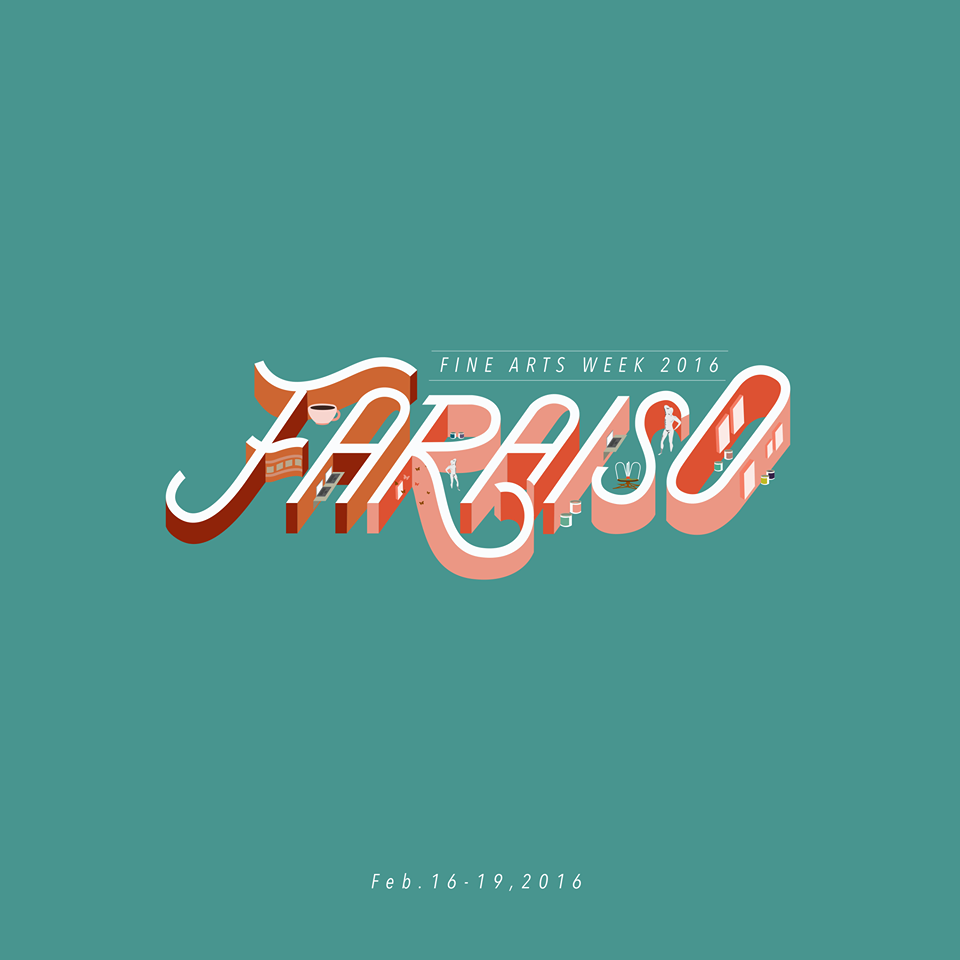 The University of the Philippines College of Fine Arts (UPCFA) celebrates Arts Month with its annual Fine Arts Week from February 15 to 19, 2016.
This year's FA Week, under the theme FAraiso, will be highlighted by several events, including the following:
Feb. 12: Groundbreaking rites for the new UPCFA Art and Design Hall (beside Bartlett Hall)
Feb. 12: Exhibition opening of Comrades in Art '66 at the Fine Arts Gallery Corredor,  featuring works by artists from the UPCFA's Batch '66 Golden Jubilarians: Johnny Altamonte, Armand Bacaltos, Heber Bartolome, Glenn Bautista, Santiago Bose, Imelda Cajipe-Endaya, Ernie Canlas, Lito Carating, Romeo Carlos, Antonio Daroy, Emmanuel Garalde, Tony Pajaro, Menchu Pascual, Pablo Baen Santos, Hermisanto, Roy Veneracion, Lynett Villariba, Nestor Vinluan and Junyee.
Feb. 12: Opening of Gnashing of Teeth, a solo exhibition of new paintings by Jeff T. Dizon, at the UP Fine Arts Gallery Foyer.
Feb. 16: Exhibit openings (per class) at the CFA grounds and classrooms, 10:00 a.m.
Feb. 16: Bike-ada bicycle ride from FA to the UP Academic Oval and opening of Org Booth Fair and Food Bazaar
Feb. 17: FA-nood Naman film screenings by the Cinema as Art Movement and UPCFA Student Council, at the CFA Auditorium, 5:30-8:30 p.m.
Feb. 17: Workshops on Nude Drawing (CFA Auditorium, 1:00-2:30 p.m.) and Pottery (UP Ceramic Studio)
Artist talks by UPCFA Ceramic Studio coordinator Prof. Rita Badilla-Gudino (Feb 17, 11:30-1:00 p.m., RGEP room), visual artist Jason Cortez (Feb, 18, 11:30 a.m.-1 p.m., CFA Auditorium), award-winning designer and illustrator Dan Matutina (Feb 18, 11:30-1:00 p.m., RGEP room), and graphic designer and toy customizer Jan Calleja (Feb, 19, 11:30 a.m.-1 p.m., CFA Auditorium)
Feb. 18: Paint War: FAsabog ng Kulay Paint War, at the field fronting Bartlett Hall from 1 pm onwards, and capoeira workshop at the RGEP Room, 1:00-2:30 p.m.
Feb. 16-19: CFA Bike Photography Contest
Feb. 19: Fine Arts Music Festival at the Parking Lot, 5:00 p.m. onwards
During FA Week, classrooms are transformed into exhibition spaces, while students, organisations and faculty initiate artist talks, booths, workshops, contests, demonstrations, food bazaars, athletic events, film screenings and music festivals.
For inquiries, visit www.cfa.upd.edu.ph or contact the UPCFA at 981.8732,  920.9910 (telefax), or 981.8500 local 3977.