12 February – 5 March 2016 (Exhibit run)
College of Fine Arts Gallery
College of Fine Arts, UP Diliman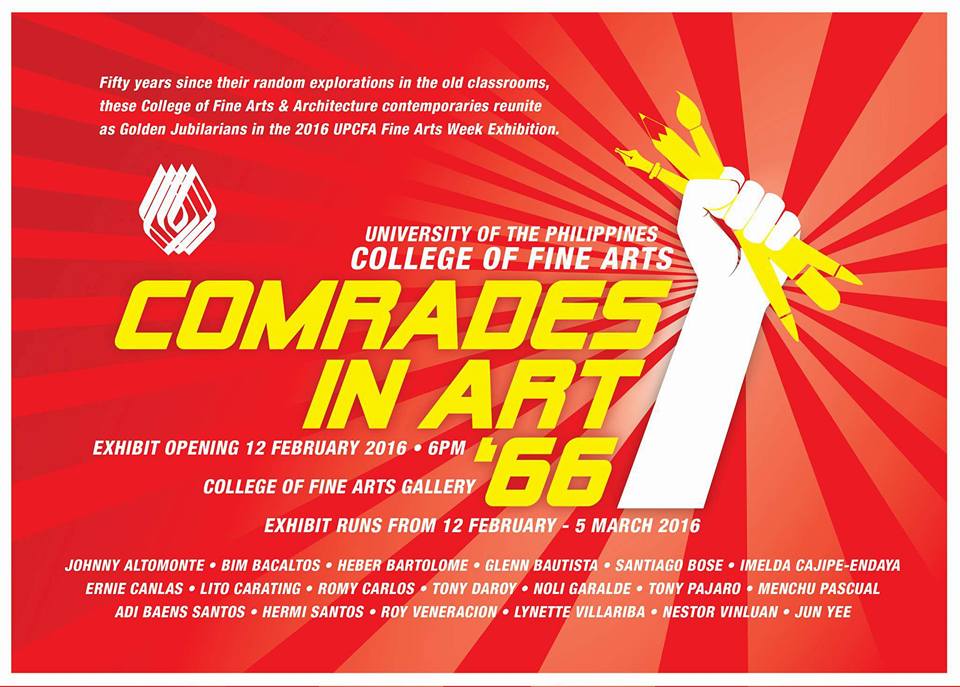 Golden jubilarians belonging of the University of the Philippines College of Fine Arts (UPCFA) Batch 1966 celebrate five decades of practice in the exhibition titled Comrades in Art '66.
Comrades in Art '66 opens on February 12 at 6:00 p.m. at the Corredor, UP Fine Arts Gallery.  The exhibit is part of the Fine Arts Week and will run up to March 5.
The exhibit features works by Johnny Altamonte, Armand Bacaltos, Heber Bartolome, Glenn Bautista, Santiago Bose, Imelda Cajipe-Endaya, Ernie Canlas, Lito Carating, Romeo Carlos, Antonio Daroy, Emmanuel Garalde, Tony Pajaro, Menchu Pascual, Pablo Baen Santos, Hermisanto, Roy Veneracion, Lynett Villariba, Nestor Vinluan and Junyee.
The diverse range of works in the show underscores the various areas of visual arts practice that this batch pursued over the decades. Several of the country's top abstractionists come from this generation, as represented by the works of Lito Carating, Antonio Daroy, Roy Veneracion and former UPCFA Dean and Professor Emeritus Nestor Vinluan. Also present are works from several pioneering practitioners in assemblage, multimedia, and installation art using indigenous materials, including Santiago Bose, Hermie Santos, and Junyee, who was the UP CFA's Tanglaw ng Sining alumni awardee in 2013
Others are also distinguished by their historical contributions to progressive and protest art, such as Pablo Baen Santos, who belongs to the first generation of Social Realists, and Imelda Cajipe-Endaya, whose lifelong work as an artist and researcher contributed to the rise of feminist consciousness in Philippine art.
The exhibit offers the rare opportunity to see works by Johnny Altamonte, Glenn Bautista, and Spain-based Antonio Pajaro as well as artists who pursued their practice of the visual arts alongside other disciplines, such as journalist Lynett Villariba and musician Heber Bartolome.
Some of the participating artists are current faculty members of the UPCFA. Bacaltos was a founding member of the UP Artists Circle while Garalde was the former College Secretary and Chairman of the Department of Visual Communications. Several such as Canlas, Carlos and Pascual also play an active role in the university and college's alumni associations.
The exhibit opening will be preceded by the college's ground breaking ceremony for its new Art and Design Hall at 5 p.m, to be built beside the existing grounds of Bartlett Hall.
The UP Fine Arts Gallery is located at Bartlett Hall, Emilio Jacinto St., University of the Philippines Diliman 1101, Quezon City. For inquiries, please contact Gilda Sychingiok at 981.8732,  920.9910 (telefax), or 981.8500 local 3977.  Visit www.cfa.upd.edu.ph or email upcfinearts@gmail.com for more updates.