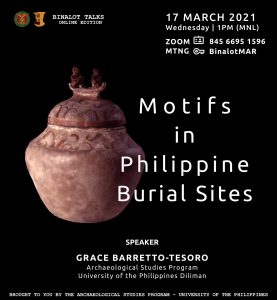 The study of death and its central themes, based on materials of past and present societies, can give us a glimpse of a people s world view at a particular time and place.
Want to hear more of what a Philippine archaeologist investigates?
Join us next week as Grace Barretto-Tesoro gives a Binalot on 'Motifs in Philippine Burial Sites'. See you 17th March, Wednesday, 1PM(MNL) for another enlightening discussion.
Join Zoom Meeting https://up-edu.zoom.us/j/84566951596
Meeting ID: 845 6695 1596
Passcode: BinalotMAR