16 June – 7 July 2017
Tubig at Kalikasan: 6th Solo Exhibit of Prof. Johnny T. Reynoso
Foyer, UP Fine Arts Gallery
Bartlett Hall, E. Jacinto Street
Exhibition closes on July 7, 2017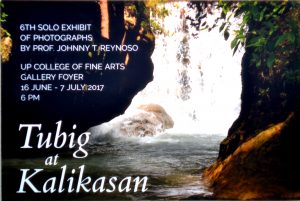 This sixth solo exhibition of UP College of Fine Arts (UPCFA) faculty member and photographer Johnny T. Reynoso features his recent series of color photographs portraying the theme of water and nature: underscoring the connections and harmony between this vital element and the natural life that surrounds us.
Reynoso is an Associate Professor at the UPCFA Department of Visual Communication. He joined the college in 1987 and has since then taught courses in Photography, Visual Design, Production Methods, Editorial Design, Graphic Workshop, Screenprinting, Research Methods and Graphic Thesis. His first solo exhibit was held in 1997 while his last solo exhibition was held in 2015.
Prof. Reynoso's body of work often highlights the presence of nature and its vivid colors. This is evident in his two coffee table books featuring his portfolio of photographs, titled "Colors of Nature, Water of Life" and "In Retrospect: Water of Life 2" were released in 2014 and 2016, respectively.
Contact info: Ms. Glory Jane Moron, 920.9910 (telefax) or 0920.1253393
Open to the public