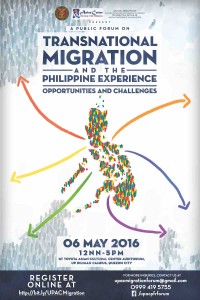 The UP Asian Center will be hosting a public forum, "Transnational Migration and the Philippine Experience: Opportunities and Challenges," on Friday, 6 May 2016, 12:00* noon to 5:00 p.m., GT Toyota Asian Center Auditorium, Asian Center, University of the Philippines Diliman. The forum is free and open to the public; seating is available on a first-come, first-served basis but interested participants are encouraged to sign up to expedite the registration process on the day of the forum (*Registration)
About the Forum
Migration is a global trend re-shaping societies in many ways.  More than any other time in history, migrant issues have become a pressing concern for many countries. As it is continually evolving, it is imperative to re-assess the current international and domestic migration landscape, and identify issues, opportunities and action areas, in order to strategically move forward in formulating the migration policies of the Philippines.
About the Lectures
Push and Pull Factors and International Trends of Migration, Ms. Romina Sta. Clara, International Organization for Migration (IOM)
Asia and the Pacific Migration, Fr. Graziano Battistela, Director, Scalabrini Migration Network
Migration in the Philippines and Why Does it Continue?, Ms. Rhodora Abano, Advocacy Officer, Center for Migrant Advocacy (CMA)
Migration and the Philippine Response, Mr. Jose Molano, Senior  Consultant, Commission on Filipino Overseas (CFO)
Philippine Transnational Crimes and Migration Challenges, Mr. Daniel Bernardo, Office of the President
About the Organizers
The public forum is organized by Philippine Foreign Relations classes taught by Dr. Henelito A. Sevilla, Jr., Assistant to the Dean for Administration and Public Affairs.