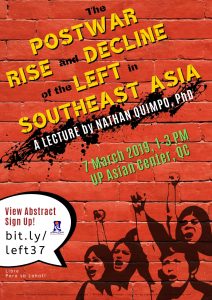 The UP Asian Center will be organizing "
The Postwar Rise and Decline of the Left in Southeast Asia
," a public lecture by Nathan Gilbert Quimpo on 7 March 2019, 1 pm–3 pm, UP Asian Center, QC. The lecture is free and open to the public; seating is first-come, first-served, but participants are encouraged to sign up online.
SIGN UP: YES, I WILL ATTEND THE LECTURE
ABSTRACT
Leftist movements and parties played prominent roles in the politics of Southeast Asian countries before and during World War II and in the early postwar decades. Communists and socialists were in the forefront in the struggles for independence against colonial rule, in the resistance against Japanese occupation, and in postwar revolutionary movements against postcolonial elite rule. Since the 1980s, however, leftist forces have faded and, despite the expansion of political space in varying degrees in Southeast Asian countries in more recent years, the left has not significantly recovered.
Examining the postwar rise and decline of the left in Southeast Asia, Nathan Gilbert Quimpo argues that most of the major revolutionary left groups in Southeast Asia (except in Vietnam and Laos) followed, or were strongly influenced by, Maoist tenets, which proved very much unsuitable to their countries' conditions. The revolutionary left launched "protracted people's wars" that all failed to progress beyond guerrilla warfare.  The dogmatism and inflexibility of the revolutionary left forces prevented them from shifting successfully from armed to electoral/parliamentary struggle, and from playing a significant role in popular uprisings in the region from the mid-1980s onwards.
Since the decline of the revolutionary left in the 1980s, Quimpo argues  further, some leftist political forces – mostly social democratic parties and pre-party formations – have emerged and are seeking to challenge the hold on power of entrenched politico-economic elites.  They face great odds, however, as the entrenched elites , apart from resorting to the usual patronage and corruption, have also been building and developing their own models of participation and representation to prevent effective contestation for power by progressives.
SPEAKER PROFILE
Nathan Gilbert Quimpo is a semi-retired adjunct professor of political science and international relations at the University of Tsukuba, and also teaches at Hosei and Toyo Universities (both in Tokyo). He has taught at the University of the Philippines, University of Amsterdam and Sophia University (Tokyo). He finished his Ph.D. in Political Science and International Relations at the Australian National University. A long-time political activist in the Philippines, he was granted political asylum in the Netherlands.
Quimpo has authored Contested Democracy and the Left in the Philippines after Marcos (Yale University Southeast Asia Studies 2008), co-authored Subversive Lives: A Family Memoir of the Marcos Years (Anvil 2012 and Ohio University Press 2016), co-edited The US and the War on Terror in the Philippines (Anvil 2008) and The Politics of Change in the Philippines (Anvil 2010). He has published articles inComparative Politics, Pacific Review, Asian Survey, Southeast Asian Affairs, Critical Asian Studies and Journal of Asian Studies and International Affairs.
INQUIRIES
For inquiries, please email asiancenter@up.edu.ph.