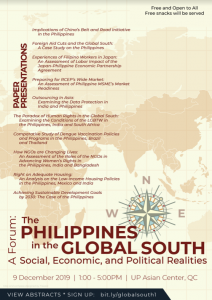 The UP Asian Center will host a forum, 
"The Philippines and the Global South: Social, Economic, and Political Realities,"
 on 9 December 2019, 1 pm–5 pm at the UP Asian Center, QC. The conference is free and open to the public. Seating a first-come, first served basis. Walk-ins are welcome, but participants are encouraged to sign up.
The forum aims to serve as a platform to discuss current and emerging social, economic, and political issues in the Philippines and the rest of the Global South that impact their domestic and foreign policies. Presentations are grouped into two panels.
Registration starts at 1 pm. Click on each title to view the abstract.
SOCIOECONOMIC

---
SOCIOPOLITICAL

*Free snacks and beverages will be served during the conference.
The Organizers

The conference is organized by the students of PS 282 – The Philippines in the Global Features under Assistant Professor Henelito A. Sevilla, Jr., Ph.D. PS 282 is a graduate-level course that aims to contribute to imagining and articulating Philippine external relations using an alternative axis – that of global north and global south – as an organizing geography for the field. It specifically aims to map out cleavages and convergences within the Global South through an examination of the structure of its political system, political culture and political economy, and the major current issues that it faces, e.g., Islamic peace process, migration, human rights, climate change, and health issues and diseases, as they relate to the pursuit of Philippine geopolitical objectives.