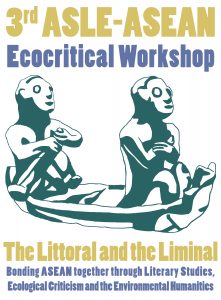 14 June to 16 June 2019
College of Arts and Letters
UP Diliman
The UP Diliman Department of English and Comparative Literature with the Association for the Study of Literature and the Environment-Association of Southeast Asian Nations (ASLE-ASEAN) will be hosting "The Littoral and the Liminal": The 3rd ASLE-ASEAN Ecocritical Workshop from 14 June to 16 June 2019 at the College of Arts and Letters, UP Diliman.
The international conference is a platform for dialogue between academics and scholars from the ecological humanities from different nations within ASEAN and beyond. This year's theme centers on the concept of ecocritical liminal spaces as it relates to the Southeast Asian regions littoral zones, the places where land and water meet.
The plenary speakers for the conference will be Dr. Adeline Johns-Putra of the University of Surrey and Dr. Alan Johnson of Idaho State University. Participants will be coming from all over the Philippines and Southeast Asia.
The conference is being mounted with the support of the Office for International Linkages (OIL), with special thanks to EchoStore Sustainable Lifestyle.
For inquiries please contact the Conference Secretariat at asleasean2019@gmail.com.