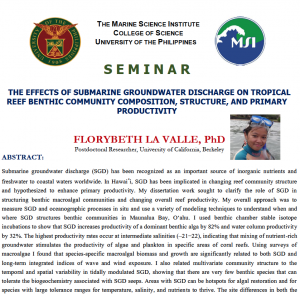 The Marine Science Institute (MSI)  is holding a seminar by Dr. Florybeth La Valle "The Effects of Submarine Groundwater Discharge on Tropical Reef Benthic  Community Composition, Structure, and Primary Productivity" on June 13, 2019, 10 a.m. at The MSI Audio Visual Room.
La Valle is a postdoctoral researcher from the University of California Berkeley working on water quality and coastal ecology issues in nearshore environments.
The seminar is free and open to the public.
The effects of Submarine Groundwater Discharge on Tropical Reef Benthic Community Composition, Structure, and Primary Productivity PDF