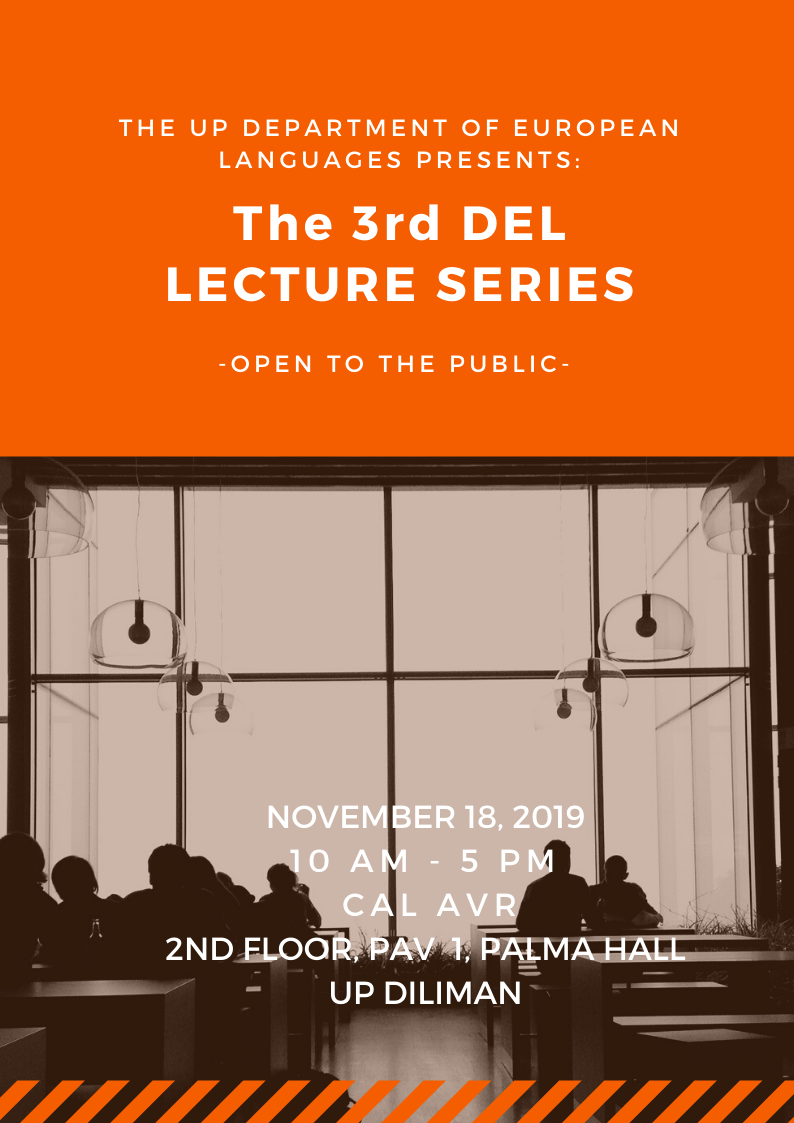 November 18
The 3rd DEL Lecture Series
10 a.m.
College of Arts and Letters Audio Visual Room 2nd Floor Pavilion 1, Palma Hall
The College of Arts and Letters (CAL) Department of European Languages (DEL) has prepared an 8-lecture line-up in this year's edition of the DEL Faculty Lecture Series. The lectures feature presentations on language teaching, literature, sociolinguistics and popular culture.
A roundtable discussion (RTD) on "Decolonizing Foreign Language Materials" will kick-off the lecture series. RTD panelists are Prof. Anna Sibayan-Sarmiento, PhD, Prof. Frances Cruz, Prof. Isis Bautista, Prof. Jad Monsod, Kristine Cabling and Jillian Melchor.
Two of the lecturers are visiting professors from DEL partner institutions: Prof. Katja Becker-Sliwa (Goethe Institut) and Prof. Angela Martinez (Fundación Rielo).
This year's speakers are: Cabling on "Operationalizing Print's Situation Analysis Model on a Foreign Language Program;" Becker-Sliwa on "Pain and Gain in Teaching Large Classes;" Martinez on "An Approach to Jesus Balmori's Thought and His Period Through the Analysis of His Novelistic Trilogy;" Prof. Wystan de la Peña on "The Failed Japanofilia in Jesus Balmori's Novel 'Pájaros de Fuego;'" Elizabeth Lavadia on "Performativity in Public and Private Space: A Study on the 1964 Comic /Satanik/;" Prof. Ricky Giganto on "Sumalangit Nawa: Death as Taboo as Language in the Philippines;" and Melchor on "Zamboanga Chavacano: From 'Español de cocina' to 'Orgullo de Mindanao.'"
Cruz coordinates the DEL Faculty Lecture Series, a department project which started in 1991. Cruz is also co-convenor of the UP Center for Integrative and Development Studies' Decolonial Studies Program.
For inquiries, call DEL at 8981-8500 loc. 2121 or email Prof. Cruz at fccruz3@up.edu.ph.