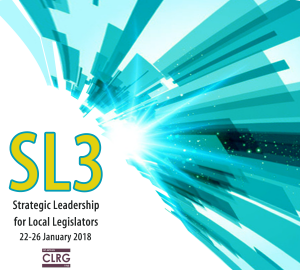 22-26 January 2018
SL3: Strategic Leadership for Local Legislators
non-degree certificate course for Sanggunian Bayan Members
NCPAG Assembly Hall
8:30 am – 5:00 pm
Strategic Leadership for Local Legislators (SL3) is the third component in U.P. CLRG's ladderized capacity building program for local government officials. Members of local government legislative councils (Sanggunian) who have attended the introductory and intensive legislation courses (iExceLL & DLEC) are prioritized in this fee-based five-day course. SL3 will cover approaches and insights in the roles of legislators as policy innovators, negotiators, advocates, crisis managers, and development framers.  It includes topics on decision-making tools, negotiation, policy advocacy, legislation in crisis situations, innovation systems, entrepreneurial governance, and strategic policy development. At the end of the course, participants are expected to have gained practical insights on crafting strategic policies and programs for their locality's development.
Pre-registration is encouraged given the limited slots. For more details inquire about SL3 at 928 3914/ 925 7422, email clrgcourses@gmail.com or contact us through facebook (up.localgov).