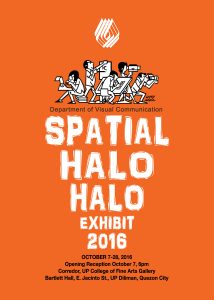 Ongoing from October 7 to 28 is Spatial Halo-Halo, an exhibition of works by faculty members of the UP College of Fine Arts (UPCFA) Department of Visual Communication.
Over the years, Spatial Halo-Halo has become a department tradition to showcase different creative practices and interests of the faculty of the Visual Communication and Industrial Design programs.
More than 30 artists will be contributing recent works, including ceramics, design, drawings, illustrations, painting, photographs, prints, and sculptures.
This year's Spatial Halo-Halo coincides with and celebrates the 90th birth year of Filipino cartoonist Larry Alcala, who founded the UPCFA Department of Visual Communication and served as its chairperson.
The exhibit opens on October 7 (Friday), 6:00 p.m. at the UP Fine Arts Gallery, located at Bartlett Hall, Emilio Jacinto St., University of the Philippines Diliman 1101, Quezon City.
For inquiries, please contact Gilda Sychingiok at 920.9910 (telefax) or 0943.4546204. Visit www.cfa.upd.edu.ph or email upcfinearts@gmail.com for more updates.