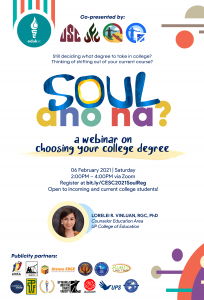 "Still deciding what degree to take in college? Thinking of shifting out of your current course?
Got questions or apprehensions on what career track to take?
The UP College of Education Student Council presents: "Soul Ano Na?" – A Webinar on
Choosing Your College Degree.
"Life is full of possibilities. You just need to know where to look." – Joe Gardner, Soul (2020)
"Soul Ano Na?" is a career seminar that provides an avenue for aspiring and current college
students in order to explore the various choices and tracks in the University. The webinar aims
to assist and aid students in assessing their course or career choices in order for them to make
sound decisions before and/or during their university life.
We will be joined by Dr. Lorelei R. Vinluan, a Registered Guidance Counselor and professor at
the Counselor Education Area of the UP College of Education. The event will be held on
Saturday, February 6, 2:00PM – 4:00PM via Zoom Video Conference. The Zoom credentials will
be sent to the participants.
The webinar is open to all incoming and current college students!
Register now at: bit.ly/CESC2021SoulReg! The registration form will be CLOSED on Friday,
February 5, 11:59PM. You can also catch the webinar LIVE at fb.com/upcesc!
Come join us and let us work together towards finding the best suited career path that you can
make use of to serve the nation!
If there are any questions or concerns, kindly contact Chairperson Eugene Solla at 0945 438
7149 or Vice Chairperson Kian Noguera at 0906 407 9400.
See you there!
#SoulAnoNa
#TugonTayo"