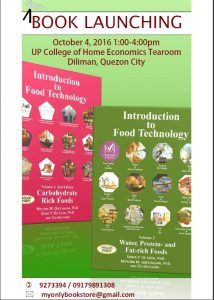 College of Home Economics Tearoom
1–4 p.m.
This event will launch the book "Introduction to Food Technology" written by Dr. Miflora Gatchalian, Dr. Sonia Y. De Leon and their co-authors. The two volumes of this book will be discussed in the event. There will also be a brief open forum during the launch.
For inquiries, please call Lourdes Castulo at 927-3394 or 09179891308 or email myonlybookstore@gmail.com.