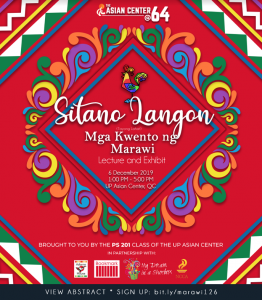 The PS 201 (Philippines in Asia and the Pacific) class will be holding a lecture-exhibit, "Sitano Langon: Mga Kwento ng Marawi," on 6 December 2019, 1–5 pm, at the UP Asian Center, QC. The event is free and open to the public. Seating is first come, first served. Walk ins are welcome, but participants are encouraged to sign up.
Sitano Langon (Tayong Lahat)
"Sitano langon" is Maranao for the phrase "tayong lahat" — a statement of connectedness and unity the class aims to make apparent with this project. Based on the experiences and insights generated from a community immersion trip to Marawi City, Lanao Del Sur, the lecture-exhibit will focus on the diverse aspects of Marawi—Maranao culture, its performing arts, and community life beyond the lens of conflict and war — most of which are glossed over in mainstream media. Through stories and perspectives of the people of Marawi, the theme aims to highlight unity among people that transcends the boundaries of religion, culture, politics and geography. The exhibit will also feature a small collection of traditional Maranao arts and crafts, garments and other items.
Lecture
Prof. Fatima Marohombsar of the Mindanao State University – Marawi Campus will discuss the Maranao culture and traditions, its performing arts, and its community life beyond the lens of conflict and amidst the challenges of modernization and Westernization.
Exhibit Sections

• Mga Kwento ng Marawi: Voices from the Ground
• Visions of the Future: Community Art in a Madrasah
• Para sa Bata: The State of Madaris Education in Marawi City
• Tahanan: Yearning for Home in Marawi
• Cultural Gatekeepers: The Richness of the Maranao Tradition and Performing Arts
• Likhang Kamay: Traditional Maranao Arts and Craftsmanship
• Heart of Marawi: Environmental Preservation and the Lake Lanao Watershed