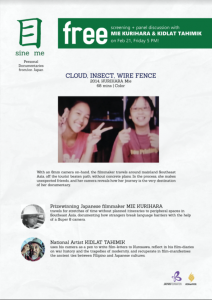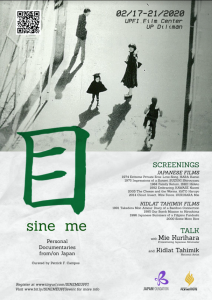 See you all at the Sine 目 Me: Personal Documentaries from/on Japan next week, Feb 17-21, at the UPFI Film Center.
We will have a special free screening of Cloud, Insect, Wire Fence + panel discussion with prizewinning Japanese filmmaker Kurihara Mie, National Artist Kidlat Tahimik, and programmer and UPFI Director Patrick F. Campos on Feb. 21 (Friday) at 5 PM.
Don't forget to register at www.tinyurl.com/SINEMEUPFI for us to have a headcount of attendees. This event is open to the public.