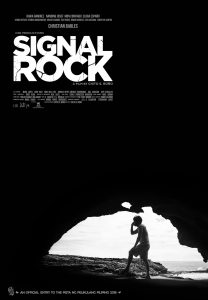 Signal Rock
Pista ng Pelikulang Pilipino's Best 
September 4 & 5
Cine Adarna, UPFI Film Center
2:30 p.m., 4 p.m. and 7:30 p.m.
The UP Film Institute presents Pista ng Pelikulang Pilipino's best with Signal Rock directed by Chit S. Roño and written by Rodolfo Vera.
The film received the Critics' Choice Award and Special Jury Award for Outstanding Acting for Christian M. Bables. It also stars Daria Ramirez, Nanding Josef, Mon Confiado, Elora Españo, Keana Reeves, Arnold Cruz Reyes, Francis Magundayao, Archie Adamos, Sue Prado, Jomari Angeles, Ces M. Quesada and Kokoy De Santos.
More information about the movie may be found at https://www.facebook.com/signalrockmovie/
Admission fee is P150. Tickets are available at the cinema entrance one (1) hour before each screening. For more information, contact Sinag or Jack at 9818500 local 4286, 9263640 and 9262722; or visit the UPFI Film Center FB page: https://www.facebook.com/upfifilmcenter/.