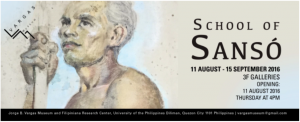 SCHOOL OF SANSÓ
Juvenal Sansó 2016 Retrospective at Vargas Museum
3F Galleries
11 August – 15 September 2016
Vargas Museum opens School of Sansó at the 3F North and South Wing Galleries on 11 August 2016, Thursday at 4pm. School of Sansó is fifth of the seven retrospective exhibitions in 2016 in honor of the life and works of Juvenal Sansó.
School of Sansó is the artist's return to his roots, back to the University of the Philippines where his passion, values and skills to make art were honed through formal instruction and the diligent guidance of Filipino impressionist, post-impressionist, and modernist mentors. The 2F Main Gallery of the Vargas is home to some of the works of Fernando Amorsolo and Guillermo Tolentino who both took Sansó under their tutelage. The exhibition reflects on the artist's creative formation, the condition of art education of the time, and the early style marking an emerging body of work.
Juvenal Sansó (b. 1929, Spain) is a well-recognized Philippine modernist. His works have been collected in museums in the Philippines, France and United States. He studied Fine Arts at the University of the Philippines from 1947 to 1951. Afterwards he spent several months at the Accademia di Belli Arti di Roma in 1951 and did further studies at L'Écòle nationale supérieure des Beaux-Arts in Paris in 1952. In 2014, Fundación Sansó was inaugurated. The space of more than 100 square meters is home to the artists' works in a variety of media: watercolor, oil, lithography, sculpture, photography and even textile design.
School of Sansó is open to the public until 15 September 2016. This retrospective is presented in cooperation with Fundación Sansó.
For more information, please contact Vargas Museum at (+632) 928-1927 (direct line), (+632) 981-8500 loc. 4024 (UP trunk line), (+632) 928-1925 (fax) or send an e-mail to vargasmuseum@gmail.com.
You may also check our website at http://vargasmuseum.upd.edu.ph/ or like us at http://www.facebook.com/vargasmuseum.upd and follow us at Twitter and Instagram @UPVargasMuseum for updates.