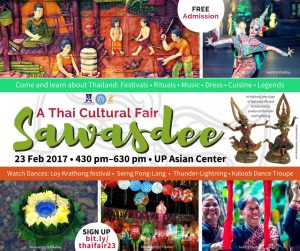 The UP Asian Center will be hosting "" on 23 February 2017, 4:30 pm to 6:30 pm at the GT-Toyota Asian Center Auditorium, UP Asian Center. The fair is free and open to the public; walk-ins are welcome, but participants are encouraged to sign up.
THE FAIR
Visitors/students from Thailand will describe, discuss, and bring to life Thai traditional ceremonies and festivals, play traditional music, display national costumes and dress, and provide free samples of popular Thai cuisine. Audiences can walk around the venue, interact with the guests, and visit the booths that showcase the various facets of Thai culture.
Later on, there will also be three five- to eight-minute performances of Thai traditional dances: (1) Loy Krathong festival dance (2) Serng Pong-Lang, and (3) Mekla and Ramasura dance. Also performing is Kaloob Dance Troupe from the Philippines.
ABOUT LOY KRATHONG; MEKLA And RAMASURA; And SERNG PONG LANG
Loy Krathong is one of the major festivals in Thailand where people launch  "a circular floating object" decorated with "banana leaves, flowers, a candle, and incense sticks." The festival is held for a variety of reasons, including worship of the "footprint of the Buddha on a riverside in India;" gratitude for and forgiveness from the Water Goddess; a wish to drive away 'misfortune' and to solicit for good luck. Loy Krathong is celebrated in other Northeast and Southeast Asian countries, albeit with different names and some modifications.
Mekla is the Goddess of Lightning who owns a crystal ball, while Ramasura wields an axe as the God of Thunder. With their weapons, they clash and produce thunder and lightning. Their story is part of Thai folklore, one that is strongly influenced by Indian culture. Indeed, Ramasura is mentioned in the Ramayana.
Pong Lang refers to a xylophone-like instrument "used in traditional folk music" in Northeastern Thailand. The dance "depicts the fun-loving nature of the…people," who "dance to entertain themselves during the harvest season." (SOURCE)
TENTATIVE PROGRAM*
4:30 pm – 5:15 pm

: Thai Cultural Fair

5:15 pm – 6:00 pm

: Cultural performances

6:00 pm – 6:30 pm

: Closing remarks
*Please sign up so we can notify you of major changes to the program.
THE ORGANIZERS
This cultural fair is organized by the UP Asian Center; Devawongse Varopakarn Institute of Foreign Affairs, Ministry of Foreign Affairs, Kingdom of Thailand; and the National Commission for Culture and the Arts, Philippines.