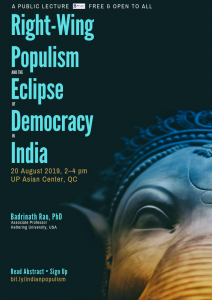 The UP Asian Center will hold a public lecture, 
"Right-Wing Populism and the Eclipse of Democracy in India: Issues and Prospects"
 at the UP Asian Center, Quezon City, 20 August 2019, 2–4 pm. The lecture is free and open to the public. Seating is first come, first served. Walk-ins are welcome but encouraged to sign up.
ABOUT THE LECTURE

In most parts of the world, right-wing populism is, arguably, one of the most preferred modes of political mobilization. Often camouflaged as nationalism, its allure is almost impossible to resist. For instance, since the last three decades, India has witnessed the steady ascent of right-wing populism masquerading as Hindu nationalism. Currently in power, Hindu nationalists have privileged a homogenized Hindu identity which they seek to impose on the diverse populations of India. Under girded by 'ancient hatreds' rooted in India's colonial past and a renewed sense of victimhood, right-wing populists wish to transform India into a Hindu state. In addition to being profoundly inimical to India's plural traditions, Hindu nationalism poses a major challenge to India's democratic ethos and institutions. In its populist incarnation, Hindu nationalism stifles dissent, claims ownership of disputed religious sites, opposes inter-religious marriages, and demands a ban on beef-eating. Of late, intolerance against free speech has become shrill, menacing, and dangerous. Demands for banning books, films, songs, music, cinema, works of fiction, historical writings, paintings, and plays have become more pronounced. The slightest indication that something is 'insulting' to Hindu identity triggers angry mass protests, open threats, intimidation, violence, and lately, even murder. Right-wing populism thrives in a context marked by inequality, capability deprivation, and low levels of human development. Left unchecked, it can corrode the Indian republic and provoke fissiparous tendencies. A more inclusive, equitable development agenda, commitment to constitutionalism and the rule of law, and reinstating the secular traditions of India are necessary to contain the populist impulse.
ABOUT THE SPEAKER

Badrinath Rao is an Associate Professor of Sociology and Asian Studies at Kettering University in the United States. He is also a licensed attorney. In 2018-2019, Prof. Rao was the Kosciusko Foundation Visiting Professor at the University of Warsaw in Poland. Dr. Rao has taught in six countries: India, China, the United States, Spain, Poland, and Canada. He was a visiting faculty in the Master's Program at the International Institute for the Sociology of Law, University of the Basque Country, Spain in 2005-07. Dr. Rao was also a Visiting Professor in Sichuan University, Chengdu, China in 2009. In 2014, he was a Visiting Professor at the Southeast University in Nanjing, China, and at the Harbin Institute of Technology, School of Law, Harbin, China. In the summer of 2017, Prof. Rao was a Visiting Faculty at the School of Law in Hunan University, Changsha, China. Currently, Dr. Rao is working on a monograph on constitutionalism and the justice system in India. His other major project relates to new social movements in India in the context of neoliberal development.
INQUIRIES
For queries, please email asiancenter@up.edu.ph.