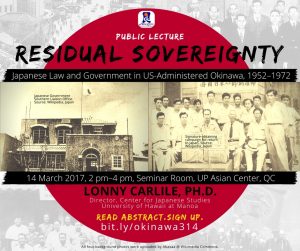 The UP Asian Center will be hosting a public lecture, Residual Sovereignty: Japanese Law and Government in US-Administered Okinawa, 1952–1972, on Tuesday, 14 March 2017, 2:00 pm to 4:00 pm, Seminar Room, Hall of Wisdom, UP Asian Center, Diliman, Quezon City. The lecture is free and open to the public; seating is first-come, first-served, but participants are requested to register online.
ABSTRACT
The term "residual sovereignty" has been used to describe Japan's claim on what is now Okinawa Prefecture from the time that the San Francisco Peace Settlement went into effect in April 1952 to Okinawa's "reversion" to Japan in May 1972. Conventional wisdom assumes that residual sovereignty was accompanied by a complete suspension of the Japanese legal and administrative authority in the US-administered Ryukyu Islands. Through an overview and analysis of the institutions that mediated Japan's relations with Okinawa during the period of US administration, the presentation will make the case that the conventional wisdom is incorrect and that in practice Japanese law and government administration was effectively exercised there in a number of non-trivial ways during the period. It is also contended that it is important for students of Okinawa and Japanese diplomatic history to adopt a more nuanced and sophisticated understanding of residual sovereignty as the conventional wisdom significantly distorts our understanding of social and political processes in Okinawa and Japan during this critical historical period.
SPEAKER PROFILE
Lonny Carlile is Director of the Center for Japanese Studies and an Associate Professor of Asian Studies at the University of Hawaii at Manoa. He received his PhD in Political Science at the University of California, Berkeley, and has taught at universities in both Canada and the United States. His research deals with various aspects of Japanese society, with a primary but not exclusive focus on political economy and, more recently, Okinawa. He is the author of Divisions of Labor: Globality, Ideology, and War in the Shaping of the Japanese Labor Movement (2005), co-editor of Is Japan Really Changing Its Ways?: Regulatory Reform and the Japanese Economy(1998) and editor of the "course packet" Putting Okinawa at the Center (2014). Recently published work includes:  "The Post-Industrialization of the Developmental State" in Japan Since 1945(2013); "The Labor Movement" in the Routledge Handbook of Japanese Politics (2011); "The Evolution of "Area Studies" in Japan: The Impact of Global Context and Institutional Setting" in Remaking Area Studies (2010); and  "From Outbound to Inbound: Japan's International Travel and Tourism Promotion Policy Rationales" in The Impact of Globalization on Japan's Public Policy (2008).
VENUE AND VICINITY MAP
For directions, please view this vicinity map and a Google Street View map. Inquiries may be sent to asiancenter@up.edu.ph.