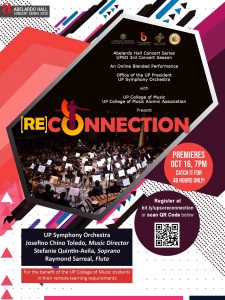 Join us this Friday, October 16, at 7pm as we explore a new concert experience!
Our first online blended performance, (Re)Connection, will feature new works of the orchestra, as well as old performances prepared for an online audience. Listen, and comment as works by Brahms, Beethoven, Barber, and more fill your screen and speakers.
Register for the event and receive links to watch at bit.ly/upsoreconnection
The concert will be available for viewing for 48 hours on Facebook and YouTube.
Viewing is free, but donations are greatly appreciated for the benefit of the UP College of Music students in their remote learning requirements.
Payments can be made via:
* Your PayPal account: upmusicalumni@gmail.com
* Bank of the Philippine Islands:
Acct. Name: (BPI) C/A 3081-1197- 07
* Your Gcash:
Acct. Name: UPCMAA Inc +63966-762-0832
Kindly send your proof of payment to: upmusicalumni@gmail.com