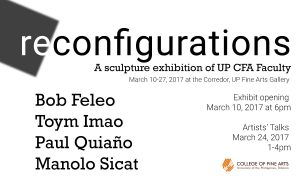 10-27 March 2017
Reconfigurations
A sculpture exhibition by UP CFA faculty
Corredor, UP Fine Arts Gallery, Bartlett Hall. E. Jacinto St.
Exhibit opens on March 10, 6:00 p.m. 
'Reconfigurations' by UPCFA sculptors on view until March 27
This group exhibition of recent works by Roberto Feleo, Toym Imao, Paul Quiaño, and Manolo Sicat explores the reinterpretation of figurative sculpture. It revisits the foundations of three-dimensional figuration as points for further creative exploration of the human form.
The featured artists belong to different generations of sculptors and represent a diverse range of themes, media, and practices in this field. All four are faculty members of the UP College of Fine Arts, handling core and major courses in Materials and Techniques in sculpture.
A panel discussion with all four artists is scheduled on March 24, from 1:00 to 5:00 p.m.
For inquiries, please contact the UP Fine Arts Gallery at upcfinearts@gmail.com.
Contact info: Ms. Glory Jane Moron, 920.9910 (telefax) or 0920.1253393
Open to the public