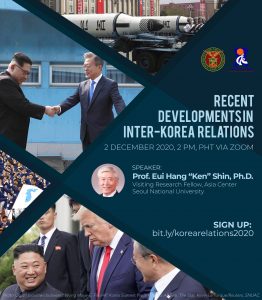 The UP Asian Center will hold a webinar, "Recent Developments in Inter-Korea Relations," on 2 December 2020, 2 pm, Philippine time, via Zoom. The event is free and open to the public, but interested participants are required to register using an authenticated Zoom account.
ABOUT THE WEBINAR
This webinar aims to explore recent issues and events that transpired between North and South Korea such as the NoKor's Nuclear Weapons Program, the summit meetings, and the Trump-Kim meetings. It then seeks to analyze the impact and effects of these events to the domestic political conditions in the two countries.
THE SPEAKER
Eui Hang Shin is Distinguished Professor Emeritus in the Department of Sociology, University of South Carolina, Columbia, South Carolina and Visiting Research Fellow, Asia Center, Seoul National University. His areas of interest are the political demography of Korea and international higher education. He has published nearly 70 articles in journals such as Amerasia Journal, American Educational Research Journal, American Sociologist, and the International Journal of Korean Studies. His recent publications include Undergraduate Education at Prominent Institutions of Higher Education in the United States, United Kingdom, and Japan (2017). He received BA in Sociology from Seoul National University in 1964, MA in Demography from University of Pennsylvania in 1968, and Ph.D. in Demography from University of Pennsylvania in 1971.
WEBINAR GUIDELINES
Registration
When registering for the webinar, use the same email address that you use for your Zoom account.
If your registration is successful, you will receive a confirmation email containing the link to join the webinar. Please do not share that link. Email reminders will be sent a day and an hour before the start of the webinar.
Attendance is first-come, first-served. The webinar can only accommodate 500. A live stream will be generated only if attendance exceeds 500. In this case, a link to the livestream will be posted on this page.
             Webinar Proper
For a smooth entry to the webinar, log in first to your Zoom account before clicking the invitation/join link.
Questions may be typed via the Q&A panel. You may choose to remain anonymous. The moderator and/or the main speaker will choose from the questions and answer them during the Open Forum. Please note that time constraints may not allow us to answer all queries.
The host(s) reserves the right to remove participants who send rude, inappropriate questions or messages.
ASIAN CENTER @ 65
This  activity is part of the Asian Center's 65th anniversary celebration, with the theme "Asian Center @ 65: Zealously Cultivating Ideas, Ceaselessly Inspiring Minds Across Asia." 
Please email asiancenter@up.edu.ph for queries.