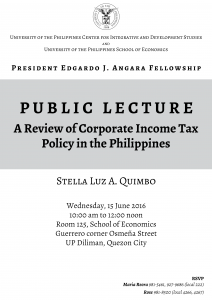 STELLA ALABASTRO QUIMBO
Stella Alabastro Quimbo is Professor at the University of the Philippines School of Economics (UPSE) in Diliman.  She obtained her BS in Business Economics (summa cum laude), MA in Economics, and PhD in Economics from the UPSE. She teaches courses in Microeconomics, Macroeconomics, Health Economics, Econometrics, Public Economics, and Industrial Organization. She has publications in peer-reviewed international journals including Health Economics, Economics Letters, Health Policy and Planning, and Social Science and Medicine. Her main fields of interest are health care financing, social protection, and public policy including taxation.
Prof. Quimbo is presently on secondment and a Commissioner of the Philippine Competition Commission.
Abstract
In this paper, we estimate accelerator models to assess the responsiveness of industry investments to changes in tax rates and incentives. The analysis uses data from the 2009 and 2010 Annual Survey of Philippine Businesses and Industry covering 27,575 and 29,271 firms, respectively, spread over 942 industry sub-classes. This data set is supplemented by administrative data on fiscal incentives.  Our results show that tax rates and incentives can explain inter-industry variations in investment levels. We find that the investment-tax and investment-subsidy relationships are non-linear: increased taxes or reduced incentives predict lower investments only for industry groups that already have previous investments.