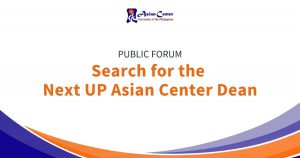 We are inviting everyone to participate in the Public Forum on the Search for the Next Asian Center Dean on 06 April 2021 (Tuesday) from 8:00 am – 10:00 a.m via Zoom. Links will be posted in due course. More details about the public consultation and stakeholders' interviews will follow.
The candidates for the deanship of the UP Asian Center are:
Prof. Ma. Mercedes G. Planta, Ph.D.
Assoc. Prof. Henelito A. Sevilla, Jr., Ph.D.
The public forum will feature the presentation of vision and plans of the nominees, as well as the presentation of accomplishments of the incumbent dean, Dr. Joefe B. Santarita.