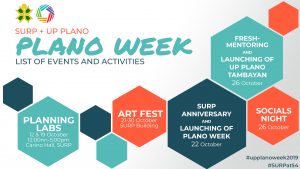 The University of the Philippines Planners Organization or UP PLANO is the sole academic organization of professionals and graduate students based in the UP School of Urban and Regional Planning (UP SURP).
This October, SURP will be celebrating its 54th year of being the premier academic institution for Urban and Regional Planning in the country. In line with this, UP PLANO organized its first ever PLANO WEEK from 12 to 26 October 2019 , with the theme: "Planning in Sync." The event aims to promote, educate, and raise awareness about the current conditions and issues related to urban planning in the Philippines. Through the collaborative nature of this event, we are welcoming numerous participants from different colleges, schools, organizations, and institutions.
This year, UP PLANO highlights the importance of preserving diversity and reconciling differences. Planners often fail to see the collaborative nature of the profession. But by nature, urban planning is an inter-sectoral and interdisciplinary endeavor! Through inclusive planning, we believe we can come to important agreements and produce the best future outcomes for all.
For further questions, please contact 09472538135 or e-mail upplanoinfo@gmail.com.
Be one with the planning community!