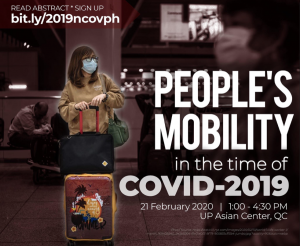 The UP Asian Center will be holding a public forum, "People's Mobility in the Time of the Corona Virus Disease-2019," on 21 February 2020, 1–4:30 pm, at the UP Asian Center, QC. The event is free and open to the public. Seating is first-come, first-served. Walks-in are welcome but participants are encouraged to sign up.
ABOUT THE FORUM
The Corona Virus Disease-2019 (CoVid-2019), which originated in Wuhan, China, triggered an emergency situation across a number of countries, a seeming tense relations between the US and China, and a set of nationalist responses via evacuations, repatriations, bans, quarantines, and medical protocols, among others. Various entities have since then articulated their views concerning prevention and control of the disease, while others are alleged to be capitalizing on the problem for political and financial gain.
This forum thus aims to contribute to the conversation by presenting the perspectives of the academe and other allied sectors, and by identifying the undertakings of the main stakeholders in addressing the issue of CoVid-2019. It examines the consequences of intensified mobility across Philippine borders, especially with the country's increasingly close ties with China, and the efforts concerning tourism promotion and overseas employment. It looks back to relevant lessons from previous emergencies and assess our preparedness for the foreseeable future.
CONFIRMED SPEAKERS
           Atty. Ari Ancheta

Atty. Ancheta is the Chief Political Affair Officer to the Minority Floor Leader at the House of Representatives.             

           Director Ivy D. Miravalles

Ms. Ivy Miravalles is the Chief of the Migrant Integration and Education Division (MIED) of the Commission of Filipinos Overseas (CFO).             
INVITED SPEAKERS (For Confirmation)

           H.E. Huang Xilian

Huang Xilian is the Ambassador of the People's Republic of China to the Philippines.
Dr. Rabindra Abeyasinghe

Dr. Abeyasinghe is Officer-in-charge and Acting Representative of the World Health Organization in the Philippines.
Dr. Carmencita Padilla

Dr. Padilla is a Professor of Pediatrics and Chancellor of the University of the Philippines Manila. She was also the founder and first executive director of the UP Philippine Genome Center.
Atty. Hans Cacdac

Atty. Cacdac is the Administrator of the Overseas Workers Welfare Administration.
Ricardo  Casco

Mr. Casco is the National Program Coordinator of IOM.
Please check this page for updates, or sign up (link above) to receive the final list of speakers.
INQUIRIES
                For queries, please email asiancenter@up.edu.ph.
CURRENT ASIAN AFFAIRS LECTURE SERIES