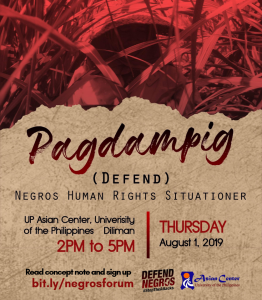 August 1, 2019
2-5 p.m.
Asian Center
The Defend Negros # StopTheAttacks Network is holding a public forum on the spate of killings in Negros Island that has so far claimed 87 lives. All of the victims were unarmed civilians (lawyers, teachers, rights defenders, activists, church people, and farmers) of which the youngest is a one-year-old baby boy killed alongside his father. Many were gunned down in their own homes or in makeshift huts, several while in their sleep. Fifteen were killed from July 23 to 28.
The lecture is free and open to the public on a first-come first-serve basis.
Participants are encouraged to sign up at  https://docs.google.com/forms/d/e/1FAIpQLSerj4p-gpxQ1t4XfB_bh3HiAg79lNnCojYD3NehS_lkULU6lg/viewform. 
For inquiries, please email asiancenter@up.edu.ph.