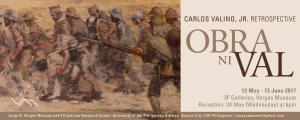 Carlos P. Valino, Jr.
12 May to 13 June 2017
3F Galleries
UP Vargas Museum
UP Vargas Museum, in cooperation with the family of Carlos Valino, Jr., and The University of the Philippines College of Fine Arts, opens Obra ni Val: Carlos Valino, Jr. Retrospective on May 12. Public reception is on May 24, Wednesday, 6pm at the 1F Galleries.
Carlos P. Valino, Jr. (b. 1926 – d. 2008) is an artist, professor and storyteller whose expertise in figure drawing has received acclaim from students, peers and colleagues. He was a Ramon Roces Scholarship Grantee of UP School of Fine Arts and Architecture (eventually became the UP College of Fine Arts, separate from the College of Architecture). He graduated with a Bachelor of Fine Arts degree in 1951. He taught in his college for 33 years (retiring in 1991). Being one of the last students of Fernando Amorsolo, Irineo Miranda and Dominador Castañeda, he had mastered realism – so much so that he could sketch proficiently any figure from memory and demonstrate it in class. His illustrations speak to folk culture and local history, and they have been featured in numerous publications including Liwayway magazine. His works are installed in the University of the Philippines, National Library, National Museum, Coconut Palace, and the Malacañang Palace.
The retrospective is a celebration of Valino: a boy from Nueva Ecija who survived the Japanese Occupation, persevered in his studies and mastered his craft. The exhibit will feature Valino's early and late works (historical paintings, genre paintings, and portraiture), illustrations and personal objects.
Obra ni Val: Carlos Valino, Jr. Retrospective runs until June 13.
For more information, please contact Vargas Museum at (+632) 928-1927 (direct line), (+632) 981-8500 loc. 4024 (UP trunkline), (+632) 928-1925 (fax) or send an e-mail to vargasmuseum@gmail.com. You may also check our website at http://vargasmuseum.upd.edu.ph or like us at http://www.facebook.com/vargasmuseum.upd and follow us at Twitter and Instagram @UPVargasMuseum for updates.