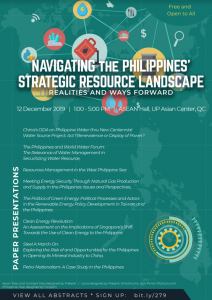 The UP Asian Center will host a forum, 
"Navigating the Philippine Strategic Resource Landscape: Realities and Ways Forward,"
 on 12 December 2019, 1-5 PM at the UP Asian Center, QC. The conference is free and open to the public. Seating a first-come, first served basis. Walk ins are welcome, but participants are encouraged to sign up.
The presentations in the forum will discuss current and emerging issues on energy competition in the MENA, Central Asia and Southeast Asia regions and their implications on the Philippines' economic growth and development, energy policies and foreign relations.
Registration starts at 1 pm.
The Presentations
Resources Management in the West Philippine Sea
Ruel Zamudio
Petro-Nationalism: A Case Study in the Philippines
Melkie Bakwit
*Free snacks and beverages will be served during the conference. For queries, please email asiancenter@up.edu.ph.