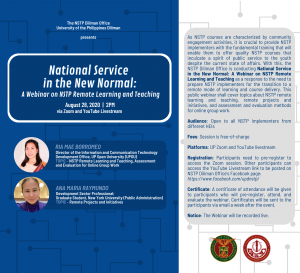 The NSTP Diliman Office is pleased to share with you our public webinar for NSTP Implementers entitled National Service in the New Normal: A Webinar on NSTP Remote Learning and Teaching. This webinar aims to provide training for NSTP implementers in light of the transition to a remote mode of learning and course delivery for NSTP. This activity is scheduled on August 28, 2020 (Friday), 2:00PM via Zoom and YouTube Livestream.
The webinar is open to NSTP Implementers from different HEIs and shall cover topics about NSTP remote learning and teaching, remote projects and initiatives, and assessment and evaluation methods for online group work. It will feature Dr. Ria Mae Borromeo, Director of the Information and Communication Technology Development Office of the University of the Philippines Open University (UPOU), and Miss Ana Maria Raymundo, Development Sector Professional and Public Administration Graduate Student at New York University.
The first 500 participants can pre-register at https://bit.ly/NSTPDilimanWebinarAug28 to access the Zoom session. Other participants can access the YouTube Livestream through the link to be posted on NSTP Diliman's Facebook page: facebook.com/updnstp.