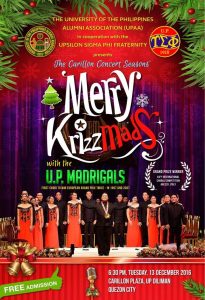 Disyembre 13
Carillon Plaza
6:30 p.m.
The UP Alumni Association will stage the fourth UP Carillon Concert Series featuring the internationally renowned UP Madrigal Singers.
The UP Madrigals is the first choir to win the European Grand Prix twice: in 1997 and in 2007.
They took home the grand prize at the 64th International Choral Competition held recently in Arezzo, Italy. They copped the top awards in three of the four categories (Compulsory Program, Musica Sacra, Monographic Music), and 2nd prize in Secular Music. The win qualifies them, with five other choirs, in the 2017 European Grand Prix in Tolosa, Spain.
All music-lovers are invited. Admission is free