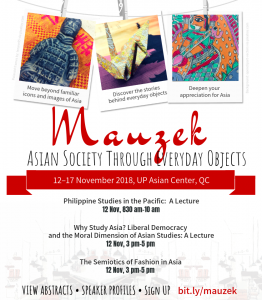 The UP Asian Center will be holding a lecture-exhibit, 
Mauzek: Asian Society through Everyday Objects
, from 12 to 17 November 2018 at the UP Asian Center, Quezon City. The event is free and open to the public, but participants are encouraged to sign up.
ABOUT THE EXHIBIT
The lecture-exhibit aims to present Asia through the lens of everyday objects, which are embedded in and marked by history, economics, culture, and politics. The event aims to foreground these underlying realities, help raise awareness of Asian societies beyond icons, images, and stereotypes, and provide a deeper appreciation of and sensitivity to the region's history, culture, and society.
THREE LECTURES ON OPENING DAY
Philippine Studies in the Pacific (8:30 am – 10 am)
This is a lecture by Hon. Gary Domingo, Ambassador of the Philippines to New Zealand.
"Why Study Asia? Liberal Democracy and the Moral Dimension of Asian Studies" by Janus Isaac Nolasco (3:00 pm–5:00 pm)
Modern area studies/Asian Studies in the United States flourished amidst the political exigencies of Cold War America. As part of the battle against communism, American universities and organizations like the Ford Foundation funded studies on various Asian regions, especially Southeast Asia. The Viet Nam War was the high point of this engagement. But since the war ended in 1975, funding for Area Studies and Asian Studies programs in the United States gradually declined. By the 1990s, as the Iron Curtain came down, scholars in the U.S. were pronouncing the end of area studies amidst program closures and funding withdrawals. Area Studies/Asian Studies managed to survive, however. But with no Cold War, the motivations of scholars to engage in Asian Studies/Area Studies —and the historical conditions of their research—inevitably changed. Taking stock of these shifts, I show that Asian Studies/Area Studies scholarship since the 1990s—with special emphasis on Philippine and Filipino-American Studies and Middle Eastern and Islamic Studies amidst the War on Terror—has featured a critique of nation-based or nationalist scholarship in favor of a regional, transnational, and global historiography; a resistance to Orientalism and Eurocentrism; and the growing visibility and influence of mobility and migration. These trends implies a moral dimension, wherein the study of Asia can help us develop an awareness, sensitivity, and appreciation for the Other, an ethics which in turn dovetail with globalization and the values of liberal democracy, such as self-determination, tolerance, respect, openness, diversity, and inclusiveness.
Janus Isaac Nolasco is Managing Editor of Asian Studies: Journal of Critical Perspectives on Asia. He finished his MA in Asian Studies at the UP Asian Center and majored in Western Asian studies, focusing on premodern Islamic history, Islamic philosophy, and East-West interactions.
"The Semiotics of Fashion in Asia" by Gilbert Que (3:00 pm–5:00 pm)
This presentation traces history and cultural flows through clothing and textile; explains how cultural similarities and differences among Asian societies can be identified; and shows how fashion is being modernized in Asia without sacrificing cultural identity and pride.
Gilbert Que teaches at the Department of Communication, Ateneo de Manila University. He has an MA in Asian Studies, major in South Asian Studies at the UP Asian Center. His MA thesis is, The Role of Post 1990-Bollywood Films in Identity Formation of Second-Generation Indian Transnationals in Metro Manila 
MINILECTURES
Minilectures on select objects will be given on:

Tuesday, 13 November, 3:00 pm–4:00 pm,
and on Thursday, 15 November, 3:00–4:00 pm
These minilectures will follow or coincide with other events @ UP Asian Center. On Tuesday, November 13, 1:30 pm – 3:00 pm, there's be a lecture on JICA's infrastructure projects in Metro Manila as well as on JICA training programs.
On Thursday, 15 November, 3:00 pm–5:00 pm, a mini food festival, A Taste of Asia, will be held at UP Asian Center.
ABOUT THE EXHIBIT-LECTURE