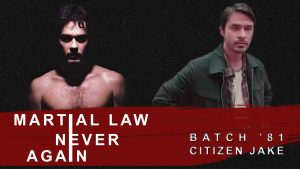 The UP Film Institute presents features directed by Mike de Leon for the Martial Law Never Again screening program with the following:
4 p.m.  Batch '81
6:30 p.m.  Citizen Jake
Batch '81 is a dramatic film about the titular fraternity's harsh initiation of a new batch of members in 1981 as seen from the eyes of Gil's character, Sid Lucero. It was screened at the 1982 Cannes Film Festival's Directors Fortnight. Although it is a joint production of LVN Pictures, MVP Pictures, and Sampaguita Pictures, the movie was also Sampaguita's last before it closed down.
Citizen Jake is the story of Jake Herrera, journalist and estranged son of a powerful Philippine Senator. More than anything, he wants to prove he is not like his father. This has been the motivation for most of his adult life's decisions, from career choice to his attempt to build a life for himself far away, in Baguio. But circumstances force him to try to solve the brutal murder of a young, female student from the university he teaches in. The investigation brings him on a path to encounter corruption and to finally face his own demons.
Admission fee is P150. Tickets are available at the cinema entrance one (1) hour before the screening. For more information, contact Sinag or Jack at 9818500 local 4286, 9263640 and 9262722; or visit the UPFI Film Center FB page: https://www.facebook.com/upfifilmcenter/.