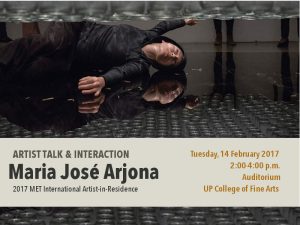 Artist Talk and Interaction
María José Arjona
2017 MET International Artist in Residence
Tuesday, 14 February 2017 |  2:00-4:00 p.m.
UP College of Fine Arts Auditorium
The Department of Theory of the UP College of Fine Arts, through the Metropolitan Museum of Manila, invites all to an artist talk by Colombian performance artist and Latin American Roaming Art (LARA) 2016 Prize Winner María José Arjona. Her presentation discusses performance art, touching on themes such as temporality, memory and long durational practices.
About the artist
María José Arjona, a Colombian performance artist well-known throughout Latin America, was born in Bogotá in 1973.  She now lives and works in New York and Miami.
Her practice involves long durational performance characterized by near-monastic rigor, and designed as experiential studies in what she considers the biggest and most critical element in performance: time. The body, in Arjona's performances, functions as medium to understand philosophical, social, anthropological and political issues beyond the concept of identity. The artist addresses physical and psychological strength as part of her ordeal to transcend notions of pain, tension or violence. Her tests of her own physical and psychological endurance confront the viewer, who is invited to acknowledge his or her choice between an active and passive response.
Arjona was one of the performers chosen by Marina Abramovic for The Artist Is Present, her retrospective exhibition at MoMA in New York in 2010. As part of the preliminary work towards this exhibition, Abramovic and Arjona jointly presented the workshop Cleaning the House. In 2009, she was an artist-in-residence at the Robert Wilson's Watermill Arts Center, and has staged performances at major museums and venues in South America, the US and Europe.
Arjona's residency is the MET's fourth International Artist Residency Program for the Latin American Roaming Art (LARA) Project, in partnership with Asiaciti Trust. Previous LARA winning artists include Nicolas Consuegra from Colombia (2013), Antonio Paucar from Peru (2014), and Florencia Guillen from Mexico (2015)