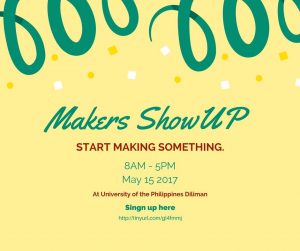 MAY 15, 2017
Makers ShowUP
Start making something!
UP DMMME Lobby & Quadrangle
9 a.m. – 5 p.m.
 The event is DMMME's local version of the world-renowned Maker Faire .
A maker, DIY crafter, designer, inventor, or simply curious about the so-called "maker movement," one will surely find something to pique their interest in this whole-day event filled with interactive booths, workshops and talks. Get the chance to discover the wonders of 3D Printing, boat-making, robotics and much more.
For more details, please follow facebook.com/MakersShowUP.
The event is open to the public and is organized by students of DMMME's Materials Engineering program under MatE 197 (Additive Manufacturing elective).