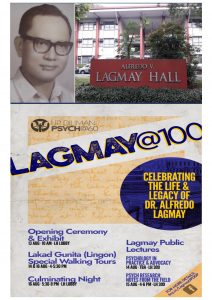 August 13-16
The UPD Department of Psychology (UPDDP), in commemoration of the 100th birth anniversary of Dr. Alfredo V. Lagmay, National Scientist and founding chair of the UPDDP, will be holding a week-long series of activities.
Opening Ceremony & Exhibit
August 13, 10 a.m.
Lagmay Hall Lobby
Lagmay Public Lecture: Psychology in Practice & Advocacy
August 14, TBA
Lagmay Hall 309
Lakad Gunita (Lingon): Special Walking Tours
August 14, 4-5:30 p.m.
Psy Research: Notes from the Field
August 15, 4-6 p.m.
Lagmay Hall 309
Culminating Night
August 16, 5:30 p.m.
Lagmay Hall Lobby
The events are free and open to the public. Interested parties are enjoined to sign up at the UPDDP, Lagmay Hall.
For more information, visit tiny.cc/LagmayUPDDP or call (632) 928-2728.