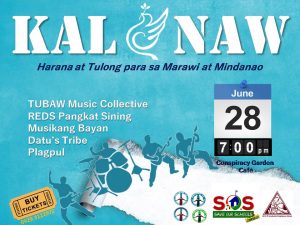 The Alliance of Peace Advocates in the University of the Philippines Diliman, Save Our Schools UPD, and All UP Academic Employees Union will be sponsoring a 2-part event dubbed as KALINAW: Harana at Tulong para sa Marawi at Mindanao on the 28th of June 2017 from 7:00 to 11:30 in the evening at the Conspiracy Garden Café along Visayas Avenue.
The first part of the event will serve as a discussion on the highlights and resolutions of the National Interfaith Humanitarian Mission. We have invited the sectoral delegates of the said mission to report back and share their insights in order for us to have solid grounds and direction on the upcoming solidarity missions.
The second part will be a benefit gig to raise funds for the evacuees. Five of the most enthusing bands in the country are set to perform. The roster includes TUBAW Music Collective, Musikang Bayan, REDS Pangkat Sining, Plagpul and Datu's Tribe.
It is for this reason that we are extending our invitation to your organization to be our partner in this event. We will be pre-selling the event ticket at PhP200.00. Please let us know how many tickets you can pledge so we can reserve seats for you.
We hope to see you there!