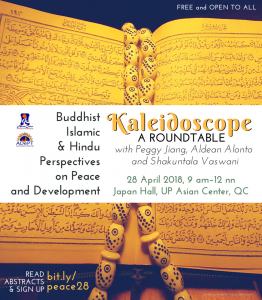 The students of the graduate course, Philosophies and Religions of Asia (AS 206), under Dr. Cecilia T. Medina of the UP Asian Center, will hold a roundtable, Kaleidoscope: Buddhist, Islamic, and Hindu Perspectives on Peace and Development, on 28 April 2018, 9:00 am to 12:00 pm at the Japan Hall, UP Asian Center, Quezon City. The roundtable is free and open to the public, but participants are requested to sign up.
ABOUT THE ROUNDTABLE
In the interest of looking closely into the role of religion as a catalyst of peace and development, the roundtable is organized to derive learning from selected religious communities. The event will be a venue for explicating religious doctrines that serve as foundations for peace and development initiatives, as well for presenting how these doctrines are translated into concrete, contextual programs that promote peace and development in the Philippines.
PRESENTATIONS
In this presentation, Peggy Jiang will briefly present the essence of Tzu Chi Foundation, school of Buddhism, and how its principles are used in the context of disaster relief, as seen in Typhoon Yolanda efforts. She will also discuss the spirit of bodhisattvas, of how everyone can live based on its principles and engage in spiritual cultivation and work with people to achieve peace and development.
Islam means "submission" or "entrusting one's self" (to the will of Allāh) and is a conjugation of the Arabic root, S-L-M, whose cognates connote peace and security, among others. Thus, "as-Salām(u) 'alaykum" means "peace be upon on you," and is used to say, "salām" (hello). In this presentation, Almahdi "Aldean" Alonto will discuss the importance of peace and respect for diversity and tolerance. It will also delve into how Islam has contributed to peacebuilding and the challenges it faces in the 21st century.
Shakuntala Vaswani explains how Hinduism as "a way of life" believes that the divine spirit is present in all beings and in everything. The presentation will focus on the key principles of Hinduism, such as dharma, that leads to harmony and peace, ahimsa, meaning non-violence, which has inspired several non-violent movements across the world, and shanti or peace. Hinduism believes that with positive thinking and efforts, it is possible to re-establish peace in peoples' minds and bodies before becoming instruments of peace in the world.
Serving as discussant is Dean Macrina Morados of the Institute of Islamic Studies, University of the Philippines Diliman. Attached below are the speaker and discussant profiles.
ORGANIZERS And INQUIRIES
The roundtable is organized in cooperation with the Asia for Development and Peace Today (ADePT) by the students of Asian Studies (AS) 206, Philosophies and Religions of Asia, taught this semester by Dr. Ma. Cecilia Medina, Assistant Professor @ UP Asian Center and editor of Asian Studies: Journal of Critical Perspectives on Asia. For inquiries, please email asiancenter@up.edu.ph